Pensacola Seventh-day Adventist Junior Academy:
Offering VPK-8th grade Christ centered education to those in the Pensacola area.  For more information see PJA's website: www.pjacademy.org
Pensacola Adventures Club: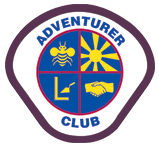 Adventures is for children in the 1st-4th grade. The club normally meets on Sunday morning/afternoon.
Pensacola Gators - Pathfinder Club:
Pathfinders are a worldwide organization of young people sponsored by the Seventh-day Adventist Church, though young people of any religious persuasion, or none at all, are welcome and encouraged to join.  Club Members are 5th grade though 8th grade.  High School students, 9-12th grade, are encouraged to participate as a part of the Teen Leadership Training (TLT) program.
Questions/Comments - Contact the Club Director